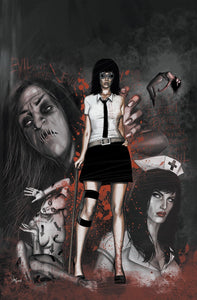 Malefic Volume 1: The Doctor Will See You Now
TRADE PAPERBACK

The world of 
Malefic
 is as wicked as the devil and twice as tricky. Young Dr. Freust, a psychiatrist in a castle full of deranged paranormal mutants, must pit her wits and her sanity in a dangerous game as she takes her deceased father's controversial fringe scientific experiments to unimaginable levels in order to stop the lunatics from taking over the asylum. 
Malefic
 combines the storytelling twists of 
The Twilight Zone
 with the outrageous sensibilities of 
American Horror Story
.