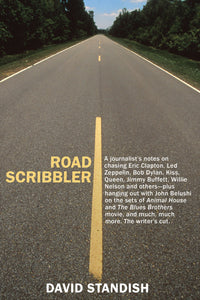 Road Scribbler
PAPERBACK
(W) David Standish
David Standish has been writing about rock & roll for forty years, along with allied lowrent forms including comic books, pinball, science fiction, and movies-and other wonderful despised junk of all kinds.
Standish has written many articles for Playboy magazine, plus Esquire, Rolling Stone, Smithsonian, Outside, Audubon, Chicago Magazine, Travel & Leisure and others.
This book is an album of his favorite entertainment articles, in a "writer's cut"-the way they appeared before certain deranged editors got their hands on them.
A few have never been published-including one about the making of Animal House (he was the only journalist to cover it). Standish wrote it before the movie came out. His editor at Playboy told him that he really liked the writing, but that "the movie isn't important enough to publish it".
To quote Kurt Vonnegut, so it goes .